Low generation keeps market afloat

NL-Tilburg, March 19th 2023
This week too, the price of cardboard in exports thickened a bit. 'Only' $5 a tonne, but still. It is in stark contrast to the local price for occ (kls) where, although the price has been adjusted upwards in some regions, the difference with export prices generally remains large. Sales prices of recycled corrugating (liner) board also keep falling, leaving the paper industry in an unenviable situation. It is the result of unbridled expansion of production capacity, perhaps driven by the thought that the boom in demand and prices of 2021 and 2022 would degenerate into a structural market of shortages and high prices. Anyway, this thought was not only prevalent in our chain - the phenomenon can be found almost in all sectors. Despite regular downtime at test liner and medium producers, the pressure on selling prices remains, caused on the one hand by less consumer spending and on the other by unwinding the high stocks accumulated in recent years. And, as so often, the outlet of exports of finished paper and board is now also no longer there. Export prices are of little interest. That consumer spending has fallen can also be felt by us. Generation has slowed down considerably. Not only in packaging paper, by the way. In all sectors, whether it is tissue, corrugated paper, folding box board or graphic paper, nothing is moving well. With fewer volumes, our margins are under pressure, the ever-lower selling prices of all grades except cardboard and mixed paper and the delay in passing on falling purchase prices to suppliers are hurting us, and we are still not at the end of the ever-increasing costs. So not exactly fun time right now.
In the middle grades, in export, competition from Japanese suppliers, for example, continues to increase. With the advantage of shorter transit times but especially lower prices, we are faced with a market in Asia that is actually going down constantly. For some grades with small steps, for others somewhat larger and a few remain in strong demand and unchanged in price for the time being, but paper and board mills in exporting countries are also not immune to the weak finished paper and board market.
That the price of occ (cardboard) then still rises a little in exports is more likely to be an effect of start-up new capacities that still need raw material to get production going and then have to buy this necessary raw material in a market whose generation has collapsed considerably. Selling the paper of new
capacities will come at the expense of existing capacities. In the end, then, all this will still result in lower prices for recovered paper. And pulp, of course. With sharply reduced energy prices and lower raw material prices, the paper and board industry will eventually have to get into somewhat more favourable territory. However, this while for many increased costs (wages among others) there is no other solution than to pass them on in sales prices. And created overcapacities will have to be absorbed again in a growth market. That the market will soon be ripe for this is highly doubtful. We will be struggling for quite a while yet.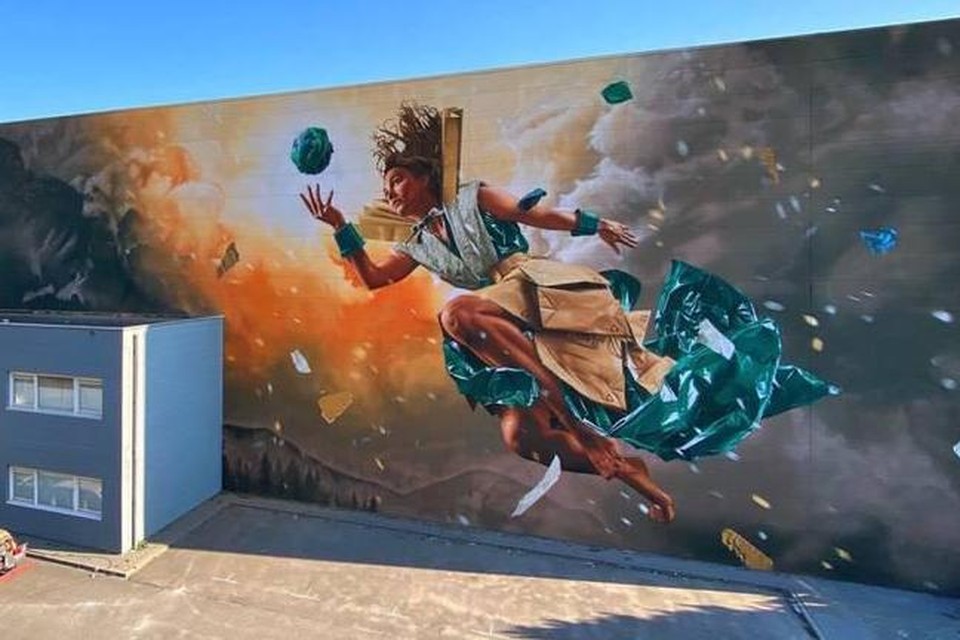 Worldwide price winner mural on CVB Recycling Tilburg depot
Price indication
Price indication in Europe for low grades of recovered paper, sorted, baled and ex works are now between € 40 and € 80 per tonne. These prices are depending on quality, available volume, region and loaded weight.

Look here at the Price chart >>

The price chart gives an indication of the price of mixed paper, separately collected, in the Netherlands free delivered mill over the last 10 years.
Scrolling over the top of the columns gives the exact price indication in Euro's per ton.