Positive outlook on Q4

NL-Tilburg, September 24th 2023
Alongside the merger between Smurfit Kappa and WestRock, consolidation continues in our paper recycling sector as well. DS Smith UK sold four of its waste paper depots to Veolia and closed two. And Austria's Hamburger Recycling Group expanded its already sizeable paper recycling organization with the acquisition in Italy of Eurocart and its subsidiary Berica Recuperi. One wonders why one paper group keeps investing in backward integration while the other disinvests in the same sector. No doubt it is because of a different outlook in the future or strategies. So unanimity in this, at least, cannot be derived from it.
Incidentally, there is no such unanimity on the recovered paper market either, at least where future prospects are concerned. After the reported price increases last week for US occ (kls) in South-East Asia and also for European occ in India, the willingness to pay higher prices for European occ in South-East Asia remained unchanged for the time being. Well, reluctantly a gesture was made here and there by regular mill importers, but it seemed to be more for show than because of need. Many buyers there point out that with the current order position for finished paper, there is still plenty of local recovered paper available that is also cheaper. So why should they ? The crux, however, is that the less is imported, the sooner the moment of having to import will come closer again.
Then again, future expectations play a role here, and while some paper mills see light at the end of the tunnel again, others are not convinced that there is a sign of any improvement in their market yet in the short term. With recovered paper prices, sentiment plays an important role. With generally sufficient availability, the fear there might not be enough available has last year led to the highest recovered paper prices since 1974. These kinds of extremely high prices are always followed by deep lows. Only not now. Not yet, at least. Historically, low grade prices are still at reasonable levels, middle grade prices are still at very high levels.
Yet even for these middle and also high grades, the declines seem to have come to an end. In exports to Asia, prices of some European middle grades have gone up somewhat after continuous decreases since early this year. And
there is demand. Not to the extent that this would trigger rapidly rising prices.
But now that the bottom seems to have been reached, there will also be less urgency for suppliers to keep taking orders and they will be watching future price developments closely. That in itself also affects a balance between supply and demand. As well as the increasing generation for that matter, as we are now seeing a return to more or less normal volumes there too. Last but not least, pulp prices have bottomed out, it seems, and producers are already announcing price increases again right away.
The coming week will therefore be decisive for October pricing for all recovered paper grades.
Locally, buyers in Europe are not yet moving but in parts of Europe, especially southern Europe, occ (cardboard) is expected to be raised by £10 a tonne anyway, following last week's export price increases. And in the UK we are already witnessing price increases of £5 to £10 per tonne.
So the conclusion is justified that we are certainly not going down. But what is certain in this cyclical market ?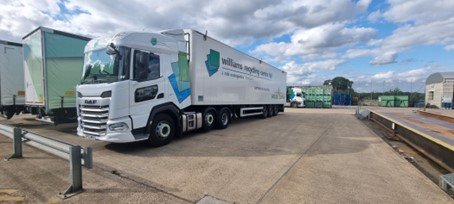 one of two new lorries Hnckley
Price indication

Price indication in Europe for low grades of recovered paper, sorted, baled and ex works are now between € 40 and € 75 per tonne. These prices are depending on quality, available volume, region and loaded weight.

Look here at the Price chart >>

The price chart gives an indication of the price of mixed paper, separately collected, in the Netherlands free delivered mill over the last 10 years.
Scrolling over the top of the columns gives the exact price indication in Euro's per ton.