Will prices move up or down ?

Tilburg, March 24th 2019
Are they coming or not ? Who ? The Chinese buyers. Of course, they are already here but are ordering obviously too little to keep the market sound. So, we are waiting for what might not happen. This week we were quite often approached for quotes. But import licenses are limited and at the end of the day we are too expensive or not good enough on (fibre) quality. Prices in Japan, the U.S. and the U.K. are more interesting than ours. So, our prices will have to go down or they need to move up in other regions. The latter is most certainly not going to happen. Why not ? Because there is an over offer of recovered paper. Yes, there are no outlet problems in Europe (yet). Everything moves and we do not have a lot as generation is limited and some of us keep some stock in order to be able to sell at higher Chinese prices later on, so is the consideration anyway. Mills have plenty of stock. Therefore at this week's BVSE congress in Duesseldorf, Germany, views on the market were different. Some see the prices move up in April, some are convinced they will go down. In spring, prices always move to tend up, we are used to that. But experiences from the past . . . . Time and time again we hear that the down time at Chinese mills due to lack of raw material cannot continue forever. But are we not dealing here more with overcapacity than with shortage of raw material ? To quote a paper maker: prices of liner board are in free fall. And this despite the limited production in China (and elsewhere). Are we not in a different scenario : that of us being the indicator for the economy ? We get more and more signs that we have gone over the top of the economy and might be heading towards a recession. The talk is about Brexit and the trade war between the U.S. and Chine, but problems are of course much more fundamental. And also: generation in the recovered paper world is lower than normal which means that less paper and board is used, or at least recently was used. Perhaps we should forget about our illusions and take the market as is. Prices are still very reasonable, but looking at prices in the U.S. there is quite some downward space. Yes, American occ is much too strong for European users, so a lot of import into Europe is not likely. But on other markets we cannot compete today with our actual prices levels. In Japan, shorter transit time, and the U.K. (PERN), we come second for other reasons. And that China is going to buy a lot here in future is not shown by the strategy of the big Chinese buyers. The English office of ACN is closed down, Cycle Link has come onto the market by acquisition but obviously not to buy a lot for China and Mark Lyndon is been made independent from Lee & Man, has been restructured and changed name to Winfibre and is now managed from the U.S. A similar move we have seen early this century with the recovered paper purchase offices of APP. So, it looks there are retreating but we only seem to ignore it.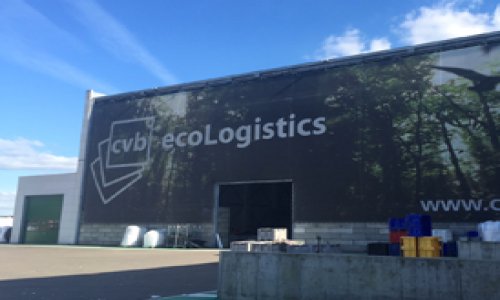 Price indication

Price indications in Europe for low grades of recovered paper, sorted, baled and ex-works are now between € 50 and € 150 per ton. These prices are depending on quality, available volume, region and loaded weight.
Click here for the price chart, with prices of the last 10 years.
The price chart gives an indication of the price of mixed paper in the Netherlands free delivered mill over the last years. Scrolling over the top of the colums gives the exact price indication in Euro's per ton.

To view the price chart completely, please click and hold on the price chart after opening and move cursor to left or right to see all available years/months.
Imports of recovered paper into China 2018

In 2018 imported volumes of recovered paper in China went down 33.8% compared to 2017. In 2017 and 2016 also imported volumes went lower already compared to previous years with 9.8% and 2.7% respectively. The drop in 2018 could have been much worse if imports in the last Quarter would not have been increased by 34% compared to the same period of 2017. This was probably due to the active use of the yet available import licenses. And, the average price of imported recovered paper went up by $ 20 per ton compared to 2017. Next to mixed paper, that was not imported at all anymore, imports of all other grades dropped as well, like corrugated and kraft grades -14%, deinking grades -31% and high grades -17.1%. Furthermore it worked out that only Japan and other Asian countries last year exported more volumes to China, +9.8% = 244.000 tons and + 39.6% = 520.000 tons respectively. Against that, imports from the U.S.A. (-45.5%) and Europe (-38.1%) went down significantly. Imports from all other regions went down as well.