China not as keen as expected

Tilburg, March 17th 2019
To start with plastics, after a few days India has indicated that imports through the Special Economic Zones (SEZ) and by Export Oriented Units (EOU) continues to be allowed anyway, being it till August 31st. It means that shipments underway still can be unloaded. At the same time it was announced that in Malaysia 120 containers with plastics have been rejected : see article by New Straits Times
The recovered paper market in Europe has not really been hurt yet by the low prices in the U.S.A. This as far as occ is concerned anyway. Demand for that grade is consistent with price tendencies up. (Clean) Mixed paper is following. It is fragile as it could all be disturbed by the coming black-out period by the Ramadan in Indonesia amongst others. In the lower de-inking grades however the absence of China orders is really felt. This goes also for the sorted office papers. We are awaiting new orders, but whereas Chinese buyers last week indicated to expect new orders to be confirmed soon, together with the issued import licenses , this week the information was that import licenses might be limited in volume and that in view of the possible purchase conditoons in other regions, the ranking now is : 1, Japan, 2. USA, 3. UK, 4. EU. In other words, we are at the end of the queue. Prices for which recovered paper is available now in Japan are about half of the China prices in Europe in October and November of last year. Half price and a short transit time – sometimes it is indeed not difficult to make choices. With further pricing pressure on all grades in the U.S. we are not very competitive there either. This can only improve when sales prices will be lowered. With today's demand for kls (occ) and mixed paper in Europe that is not going to be easy. But eventually it will lead to less exports and therefore more availability on our local market. Not a lot more soon probably as generation is low and it is quiet in our sector. And with the coming period of many holidays ahead that might not even improve anymore before the summer holidays. And the paper industry ? High stocks of packaging paper at both mills and convertors push prices further down. It is clear that the balloon created by increasing prices is deflating . And there is still a lot more of capacity to come. In the tissue sector, also challenged by oversupply, Cascade in Canada decided to close two mills with a capacity of 44.000 tons. Expiring of the lease of the two sites in August made this decision a simple one, obviously. And in the Netherlands Dick Palm passed away. Dick, who ranked in the category of real waste (recovered) paper merchants, took over the business of his dad Gerrit in the eighties of the last century. He died from a terminal disease, 66 years old.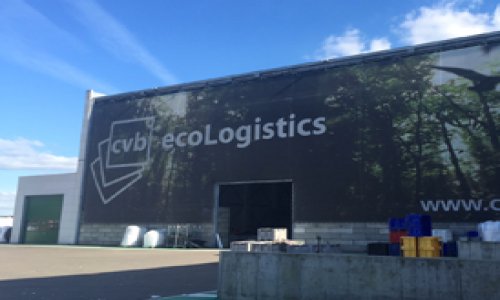 Price indication

Price indications in Europe for low grades of recovered paper, sorted, baled and ex-works are now between € 50 and € 150 per ton. These prices are depending on quality, available volume, region and loaded weight.
Click here for the price chart, with prices of the last 10 years.
The price chart gives an indication of the price of mixed paper in the Netherlands free delivered mill over the last years. Scrolling over the top of the colums gives the exact price indication in Euro's per ton.

To view the price chart completely, please click and hold on the price chart after opening and move cursor to left or right to see all available years/months.
Imports of recovered paper into China 2018

In 2018 imported volumes of recovered paper in China went down 33.8% compared to 2017. In 2017 and 2016 also imported volumes went lower already compared to previous years with 9.8% and 2.7% respectively. The drop in 2018 could have been much worse if imports in the last Quarter would not have been increased by 34% compared to the same period of 2017. This was probably due to the active use of the yet available import licenses. And, the average price of imported recovered paper went up by $ 20 per ton compared to 2017. Next to mixed paper, that was not imported at all anymore, imports of all other grades dropped as well, like corrugated and kraft grades -14%, deinking grades -31% and high grades -17.1%. Furthermore it worked out that only Japan and other Asian countries last year exported more volumes to China, +9.8% = 244.000 tons and + 39.6% = 520.000 tons respectively. Against that, imports from the U.S.A. (-45.5%) and Europe (-38.1%) went down significantly. Imports from all other regions went down as well.