Bottom reached ?

Tilburg, February 23rd, 2020
Shipping rates to Asia and especially to India went up with hundreds of Dollars per container. And especially for India that is a big handicap for European suppliers as there is supposed to be found at least a part of the solution for the 'China-problem' and at the same time we are not able to compete with the U.S. anymore. Shipping rates from the U.S. to India only went up with $ 75 per container so far. Reason is the bigger imbalance in transport between India and the U.S. which is 4:1. The result will probably be that eventually prices in the U.S. for cleaner grades, sought after due to the mixed paper troubles, will go up quickly until it is our turn again. But at this very moment everything is uncertain. Also what influence the coronavirus will have on the economy in general and especially on the paper and recovered paper market. The motto is: don't try to look to far ahead as to get a feel for the developments in the short term is basically impossible. It seems though that prices are at or close to the bottom. That in itself would already be good news as next to strongly reduced prices the descent towards it has been a big source for negative margins. Left alone the expensive contracts that all have been taken in times when no end seemed to come to prices going up. Price stability therefore can bring recovery of margins. Charging fee for transport and processing has more or less been generally accepted for all low grades.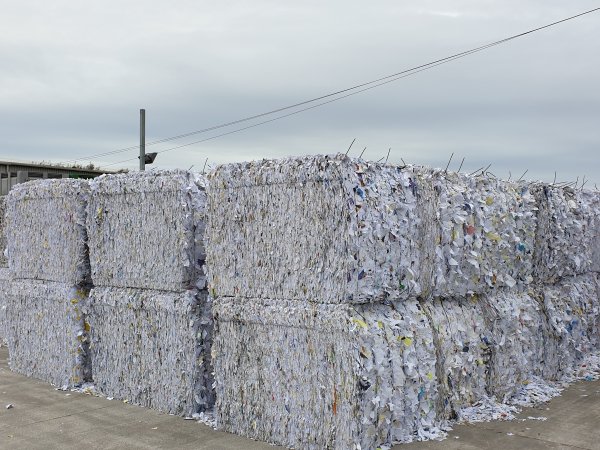 Price indication





Price indications in Europe for low grades of recovered paper, sorted, baled and ex-works are now between € -20 (negative) and € 80 per ton. These prices are depending on quality, available volume, region and loaded weight.




Click here for the price chart

, with prices of the last 10 years.




The price chart gives an indication of the price of mixed paper in the Netherlands free delivered mill over the last years. Scrolling over the top of the colums gives the exact price indication in Euro's per ton.





To view the price chart completely, please click and hold on the price chart after opening and move cursor to left or right to see all available years/months

.



China imports

Imports into China a of raw matrial for the paper industry
Raw material 2019 in tonnens 2018 in tonnes difference
recovered paper 10.356.508 17.171.076 min 6.814.568

recycled pulp 948.514 325.978 plus 622.536

virgin pulp 27.195.870 25.352.159 plus 1.843.711
Totals 38.500.892 42.849.213 min 4.348.321
In the year 2017 China imported 20.968.400 tonne sof recovered paper oud paper.
Total import licenses recovered paper issued in China
2018 : 18.251.651 tonnes
2019 : 10.796.727 tonnes
2020 so far : 3.187.410 tonnes